Safe and affordable shipping
Eliminate wasted time at the airport
Airlines aren't always forthcoming with baggage fees which can make budgeting your next trip a tricky task. Rather than paying to drag your own luggage through the airport, waiting at bag check and again at baggage claim, use ShipPlay to send your luggage, sporting equipment and more to your destination.
Bypass Baggage Fees
White-glove travel alternative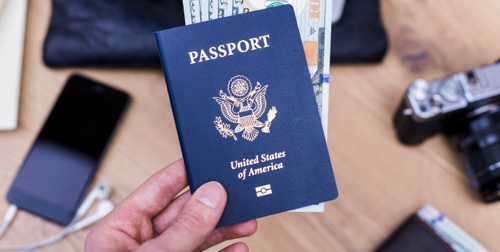 At ShipPlay, we take care of the heavy lifting. Our service will collect your items directly from your home, business, hotel or resort. All you have to do is attach the provided prepaid shipping label. Sidestep higher Frontier baggage fees while breezing through the airport, bag-free. With rates starting as low as $44.99, there's no better option than ShipPlay.
| Baggage | Cost* | Weight | Dimensions (L+W+H) |
| --- | --- | --- | --- |
| 1st checked bag | $30 | 50 lbs | 62" |
| 2nd checked bag | $40 | 50 lbs | 62" |
| 3rd checked bag | $150 | 50 lbs | 62" |
| 4th checked bag | $200 | 50 lbs | 62" |
| Oversized bag | $200 | 50 lbs | 63" - 80" |
| Overweight bag | $100 | 51 - 99 lbs | 62" |
| Overweight bag | $150 | 100 lbs | 62" |
Frontier Airlines Baggage Fees
Make your next vacation even more enjoyable
Frontier Airlines Carry-On Baggage Fees
While one personal item is included free-of-charge with your airline ticket, Frontier charges for all carry-on bags. Depending on when you decide to add the bag to your trip, you can expect to pay as much as $60 for a 35 lb. bag.
Frontier Airlines Overweight Baggage Fees
Checked baggage while traveling with Frontier may not exceed 50 lbs. Your first checked bag may cost up to $60, especially if you've opted out of pre-paying for your luggage and chosen to do so last minute at the airport. Additional checked bags can cost upwards of $90 per bag.
Frontier Airlines Overweight & Oversized Baggage Fees
Baggage that exceeds 62 linear inches or the 50 lb weight limit will be charged an additional $75 for each infraction. Frontier does not permit baggage over 100 lbs or 110 linear inches.
Shipping Luggage with Frontier Airlines
There is no better substitute to paying baggage fees than shipping your luggage ahead of your arrival, with ShipPlay. With an on-time guarantee, complimentary insurance, and access to real-time tracking 24/7, there's no question that shipping your luggage is the solution to all of the typical airport inconveniences. Learn more about our affordable pricing and how our service works.